Working from home has become the new norm, and that is why we have compiled a list of products to help you better work at home.
Changing Global Trend
With the declining economy, it is difficult to shut off ongoing businesses completely. Hence, many companies are turning towards working from home. Although it sounds nice to be working from the comfort of your home, there are times when things get out of hand, and you wish to be in your office, where everything is at your disposal.
For this purpose, we have reviewed the following products to make your work hours more comfortable and efficient.
While working on your laptop alongside your cell phone and tablet, one or more of your devices will likely run out of battery. Therefore, you need a way to charge all your devices simultaneously. The Syncwire 48W Multi-Port USB Wall Charger is a smart choice in this situation.
PROS

CONS

╃ Foldable Plug

╄ Lightweight

╄ Rugged scratch-resistant design

╄ Comes with International plugs

─ International plugs don't fold into the charger

─ The square shape takes up space and covers both electrical outlets

The Syncwire 48W Multi-Port USB Wall Charger comes with four sockets: two 2.4A and two 1A sockets.
The 2.4A sockets are used to charge tablets and phones with bigger batteries, while the 1A sockets are used to charge regular smartphones. Syncwire's compact size makes it portable and easy to fit in extension cables alongside other devices.
If you are struggling with jumbled wires on your table, then you can free yourself from wires by using a wireless charging pad. And a great choice is the UNBREAKcable Wireless Fast Charging Pad.
PROS

CONS

╃ No cable mess to deal with

╄ Less risk of electrical damage

╄ Longer lifespan than cable chargers

╄ Automatically shuts off when the battery is full

─ Heavy on the pocket

─ You have to align your device correctly with the charger; otherwise, it won't charge.

─ You cannot use your phone simultaneously while charging
The UNBREAKcable Fast Charging Pad uses the Qi wireless fast charging technology, which can save you about an hour's worth of charging time, as it has a maximum current output of 10 watts. The anti-slip design of this wireless charger makes sure that your phone is correctly aligned with the pad so that charging isn't affected. As for the size, it is compact and doesn't take up much space on your desk. Also, it works with iPhone and Android phones alike, so compatibility isn't an issue.
Although working from home has its perks, not having a proper office chair can leave your back and leg muscles sore from sitting in an uncomfortable position for extended hours. Not everyone can afford to get an office chair for their house. In such situations, a deep tissue massage can help alleviate your sore muscles.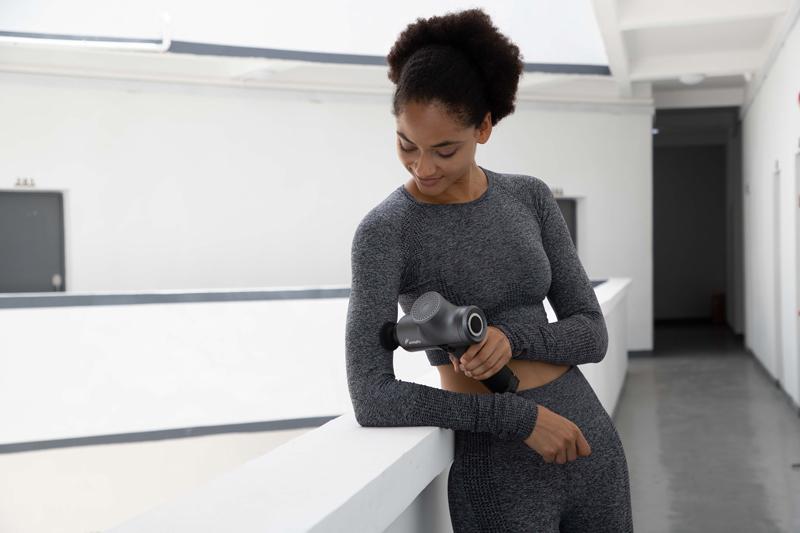 Invest in a good quality massager. We recommend the Deep Tissue Massage Gun to ease your pain.
PROS

CONS

╃ Easy to use

╄ Long battery life

╄ Effective pain relief

─ It is a bit heavy to use for longer periods

─ It is a hassle to connect and disconnect the attachments.


With a 3500 RPM, the Deep Tissue Massage Gun is useful for lower back pain, sore and stiff muscles after sitting for long hours. It is a silent massager, so you can use it without disturbing the people around you. It has a long battery life, which enables you to use it for up to 1 hour continuously.
The Deep Tissue Massage Gun Addsfit MAX come with five attachments (thumb, dampener, fork, wedge, and triggered flat) for different body parts for optimum ease and comfort. With regular use of the Deep Tissue Massage Gun, you can accelerate blood flow leading to reduced cellulite.
Do you have a stiff neck due to your monitor not positioned properly? Worry not, as the ATUMTEK Monitor Stand Riser is here to relieve you of the pain in your neck.
PROS

CONS

╃ No installation

╄ Pocket-friendly

╄ Provides additional space for laptops and CPUs

╄ Repurposable

─ Not practical for multiple monitors.</p style="font-size: 20px;">

─ Fixed based monitors cannot be adjusted on the stand.

The adjustability feature of the ATUMTEK Monitor Stand, brings your computer screen to your eye level, reducing the strain on your neck, back, and shoulders. As a result, you are more comfortable and productive. The perforated mesh hole platform keeps your monitor from overheating. Also, using this Monitor Stand Riser frees up space on your desk, giving it a neat and tidy look.
Another product to help you effectively work from home is the ATUMTEK Single Monitor Arm.
PROS

CONS

╃ Adjustable height, angle, and depth

╄ Can accommodate laptops

╄ Ideal for shared workspaces

─ Requires installation

─ Towards the expensive side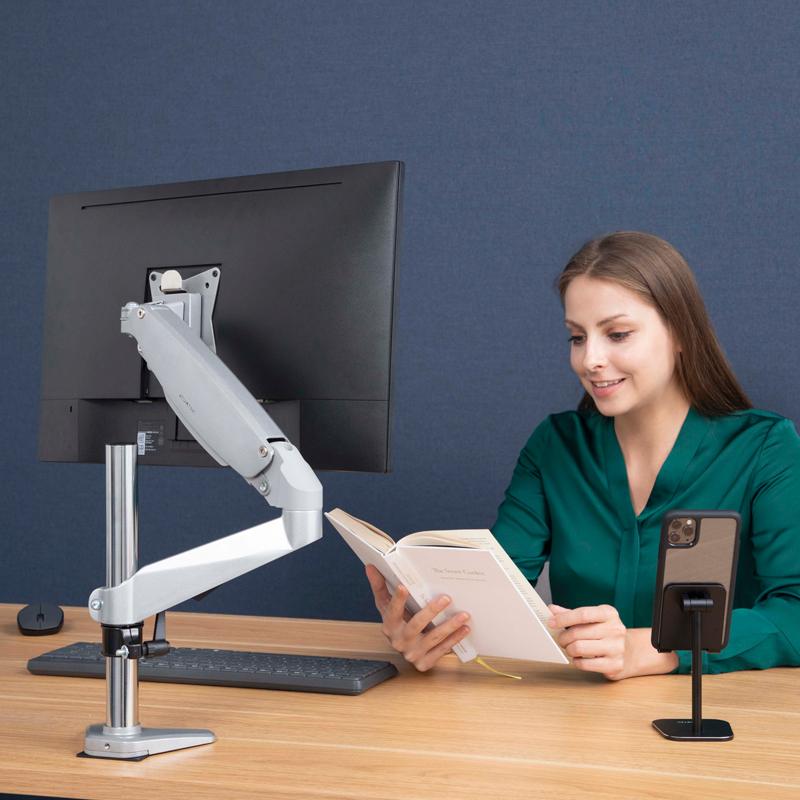 The Single Monitor Mount is designed to hold your monitor off the desk with an adjustable arm for your convenience. The arm enables you to set the height of your screen according to your comfort. It is installed using two heavy-duty c-clamps, also known as grommet mount method, which ensures stability and sturdiness of the arm.
Conclusion
It is impossible to avoid working from home at present. Therefore we recommend investing in products that provide you with a comfortable working environment at home. We hope that the products we have mentioned will help you to become more efficient and productive during this pandemic.